With temperatures rising it's inevitable that we start wearing cooler clothes and more vivid and cheerful colours that beg for lighter and airy summer shoes.
With remote work people started to wear more relaxed clothes, mainly because they were hidden from view by the webcam. More comfortable fabrics and footwear have become the norm.
The future of fashion will manifest itself through a large number of asymmetries, minimalism, technical fabrics and strong femininity.
Always attentive to international fashion trends and to what our female followers suggest, the team of designers and modellers at MLV Shoes has created even more models ofwomen's slider sandals for this new Spring-Summer 2021 collection.
We invite you to meet our suggestions in casual summer slidersandals, shall we?
Create looks with the Flat Heeled Slider Sandals
Bold look
What can we say about these completely out of the ordinary beauties?
If you are a woman with an urban/city style, these elegant sliders in metallic leather, in gold or silver, will certainly catch your attention (and of those who pass by).
The Carol36 slider sandals give a bold and modern style to any simpler look. Try wearing them with skinny jeans and a white blouse for a casual yet classy look.
Match these sliders for a summer look with linen shorts and a tank top for a young and stylish look.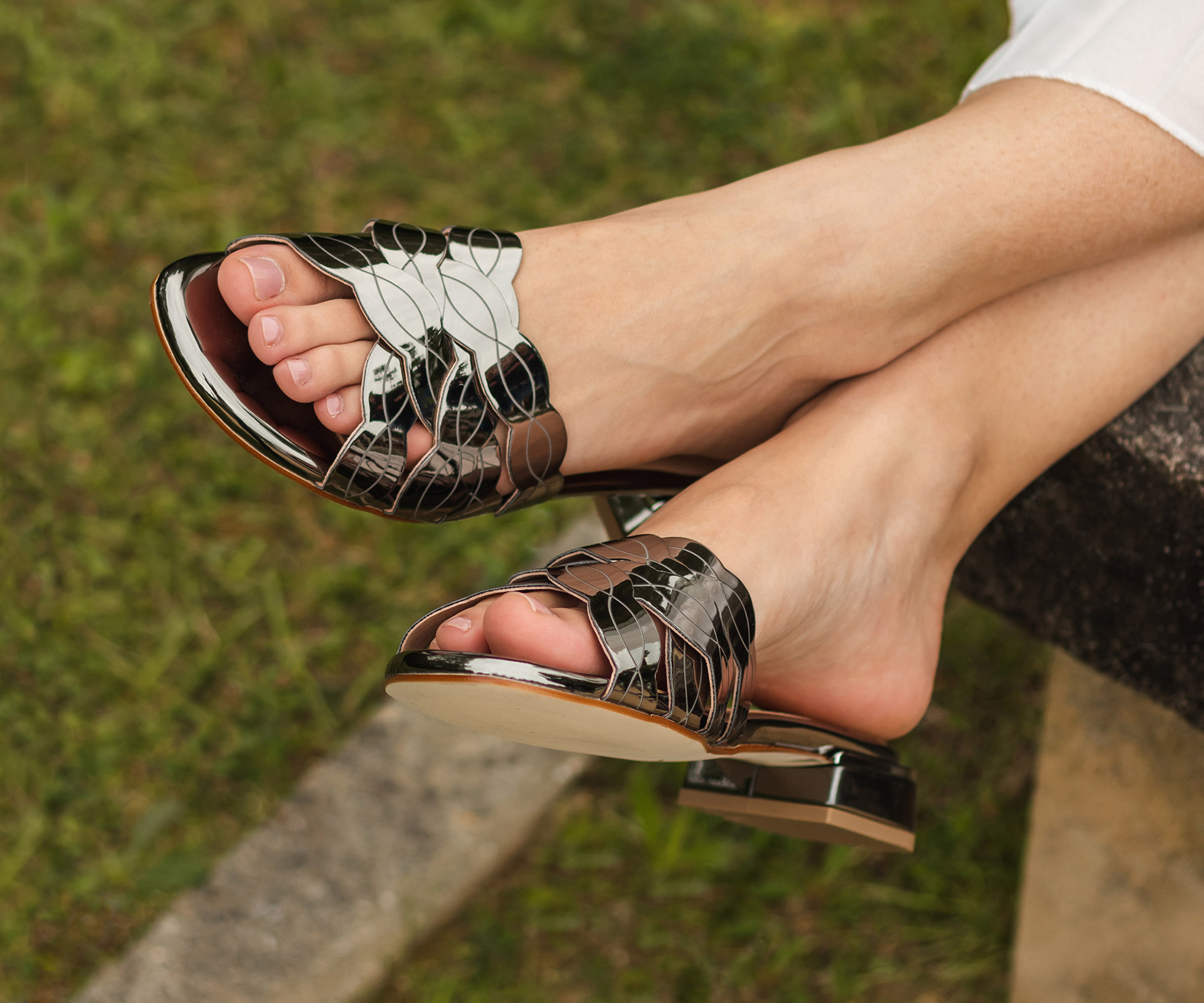 Classic Look
For a woman that is looking for a more classic look yet with a detail that stands out in her outfit, the Carol42 or the Carol43 slipper sandals are just what you're looking for.
For the Carol42, we chose a leather with braided embossing to transform a "simple" slider sandal into a distinctive and unique piece. The crystal ring is the perfect finishing touch that sets it apart, that's why you shouldn't combine these sliders with other daring clothes, precisely to keep a harmonious balance in your entire look.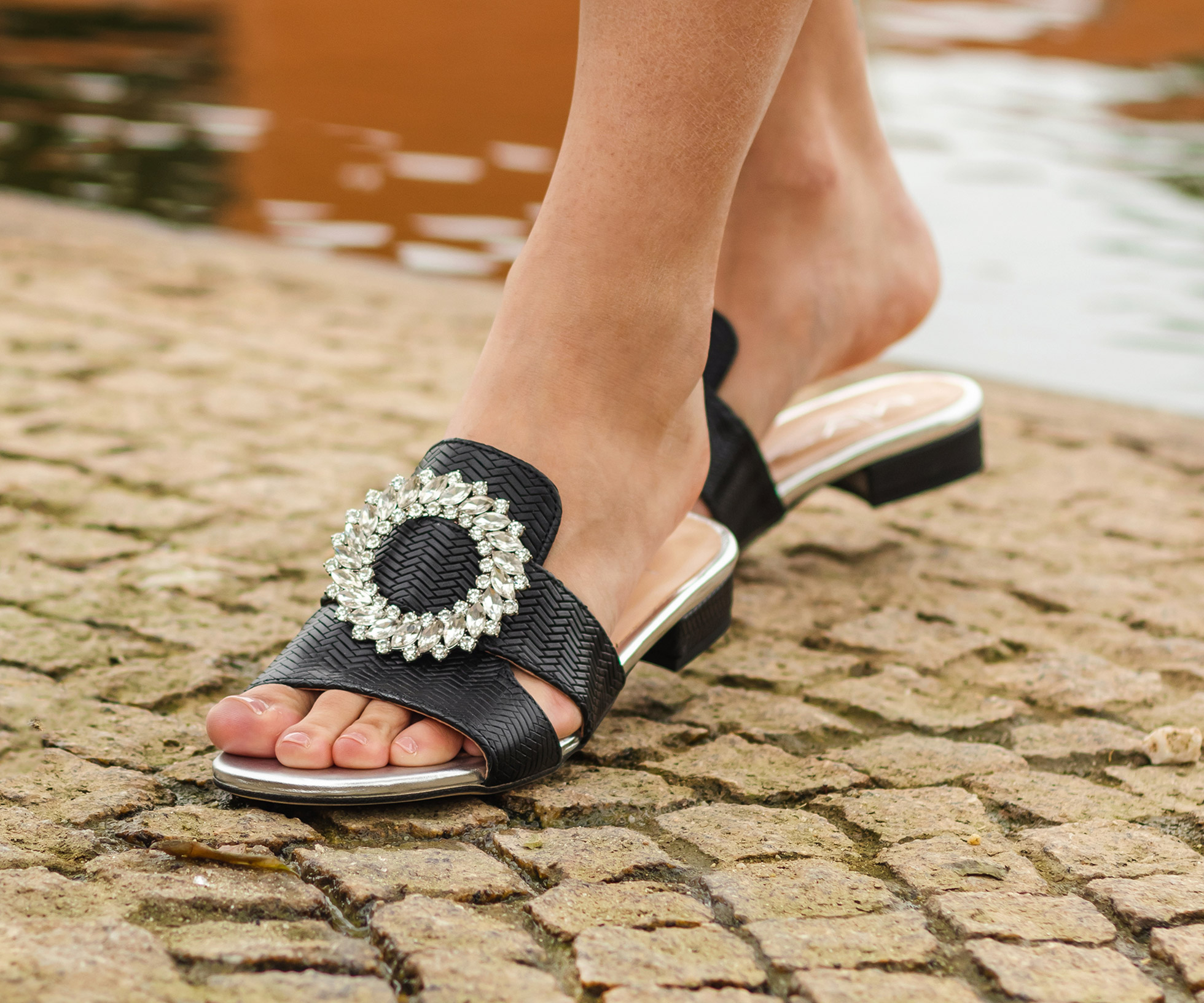 For the Carol43, we created a variation of straps, thus creating a more cheerful slider, keeping the simplicity in the layout of the colours. The black and white print with a diamond effect gives a special touch to this slider sandal.
Elegant and Extroverted Look
Very similar to the previous model but suited for animal-print lovers.
The Carol44, in crocodile-print leather, are super elegant and are available in blue, white and camel. So you can choose the one that will best coordinate with the clothes in your wardrobe. These sliders are perfect with linen pieces, combine them with beige or white shorts or a linen dress. You can also create an elegant combo with our Mykonos bag in a camel shade to finish your look.
All slider sandals from MLV Shoes have soft leather lining and a cushioned insole so you feel as if walking on clouds. We never compromise on comfort as we believe that it is an essential element to keep you smiling and in high spirits all day long.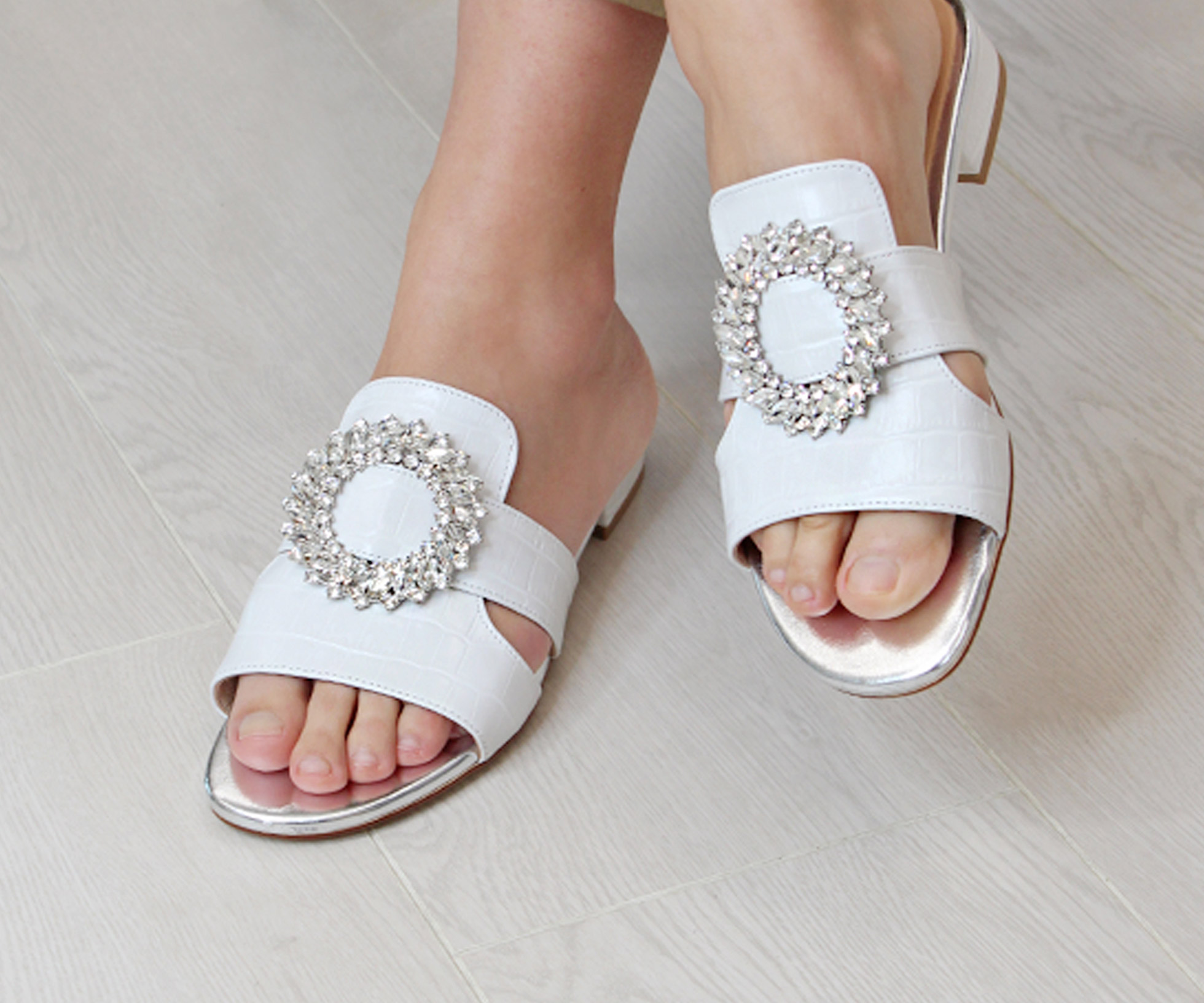 Casual Look
Have you ever imagined yourself in a picnic with these slider sandals?
The Carol21 combine the neutral colours of white, beige and gold, creating a light and timeless look. The effect of the braided engraved leather offers a feminine touch to this slider.
Combine these slider sandals with jeans or with a pair of palazzo trousers in a fluid fabric.
Casual Chic Look
The Poly27 slider sandals are distinguished from other sliders due to the wedge sole. It's undeniable that this model transports us to a summer vibe and mood.
We look at this model and immediately we imagine ourselves in a sunny and warm day by the sea, on a walk or on a terrace enjoying a well deserved rest.
A white lace or embroidered dress or jeans and a blouse are perfect for this look. A feminine straw hat will add the final touch to combine perfectly with the raffia effect on the sole of the slider.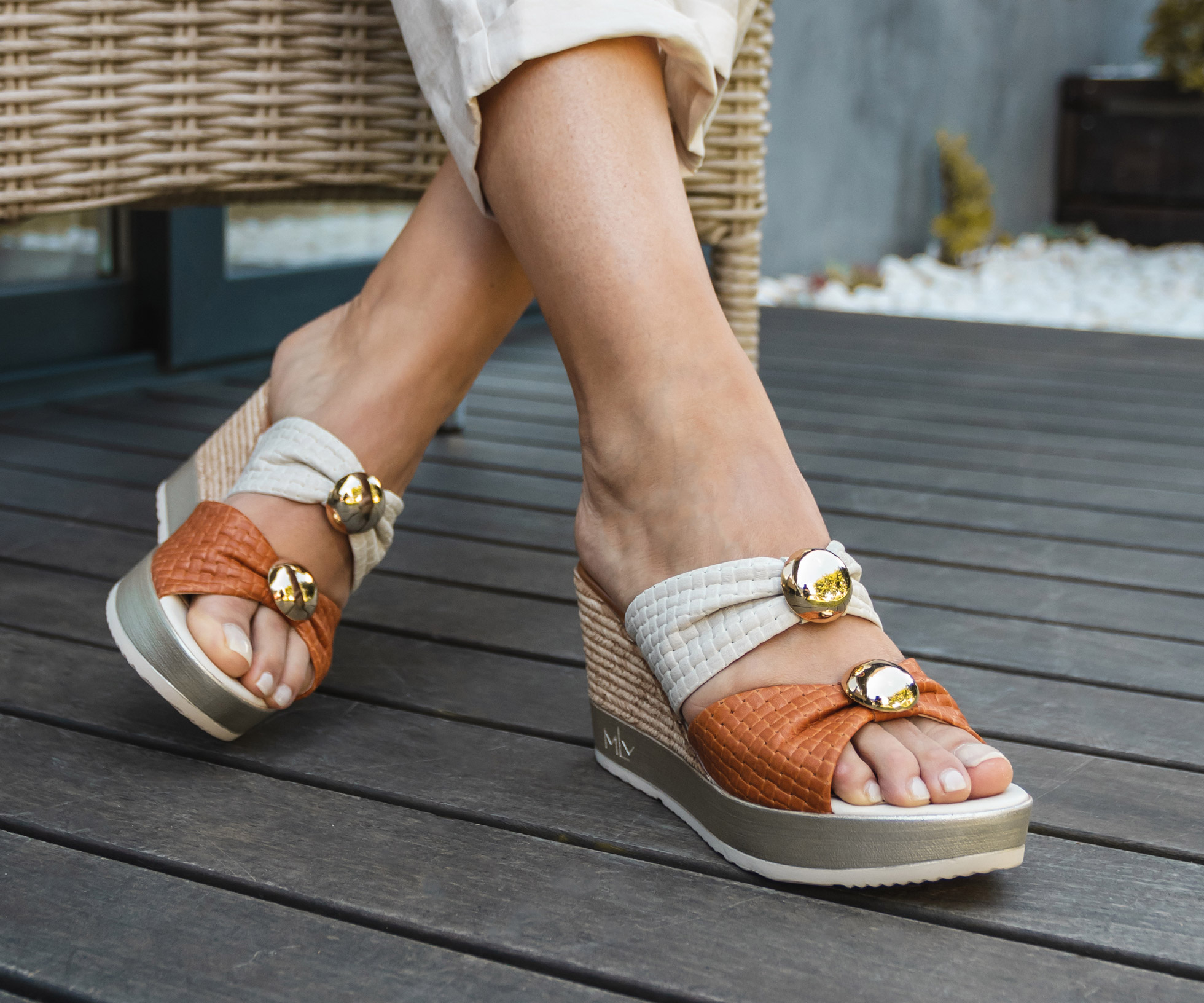 As you can see, this type of footwear allows you to create modern and versatile looks, and you can easily use them in your day-to-day. The possibilities are countless, if you still don't have one of these in your collection, consider visiting the models from the summer 2021 collection from our online store. The really difficult part will be choosing your favourite one.