This is a question that many of us ask and that our customers ask us on a regular basis.
The answer to the question "Which are the most comfortable women's sneakers?" will depend on several factors, such as:
- the morphology of your foot
- your height
- other health conditions.
Therefore, there is no linear answer.
What we should pay attention to when buying a new pair of sneakers is if it's made of synthetic materials or of natural leather, if it's a flat snearker or wedge sneaker, if it has a cushioned sole and if it's removable, among other aspects.
Naturally, we believe that you don't have to give up style and elegance to buy a pair of comfortable sneakers.
Our collection of women's sneakers is vast and quite diverse, to the point that there is a sneaker for every style, from the more simple to the more daring.
Check our suggestions to choose the ideal sneaker for you!
It is exactly the same thing to say wedge sneaker or platform sneaker.
The beauty of this type of casual sneaker is that it provides a few extra centimetres for shorter women, and in addition, this elevation (as long as it's not exaggerated) improves posture and the contours of the feminine silhouette.
They're great to use during a longer working day and, if this is your case, you should opt for a more simple and professional look with a pair of white sneakers, black sneakers or neutral tones.
There is also the possibility of choosing a pair of sneakers without shoelaces for an even more practical wear.
The Alice wedge sneakers are our customers' favourite line, so each new season we present you with a wide range of styles and colours to choose the one that's perfect for you.
And they all have an anti-transpiring material lining!
You can also choose the ultralight Aurea line in sneakers for women, which don't have an inner wedge, but still have some elevation in the sole that gives an identical effect, but with a remarkable lightness.
You will hardly feel that you have them on your feet!
Simply note that if your foot is a little wider or flatter, this model has a narrower shape compared to the inner wedgesneakerAlice line.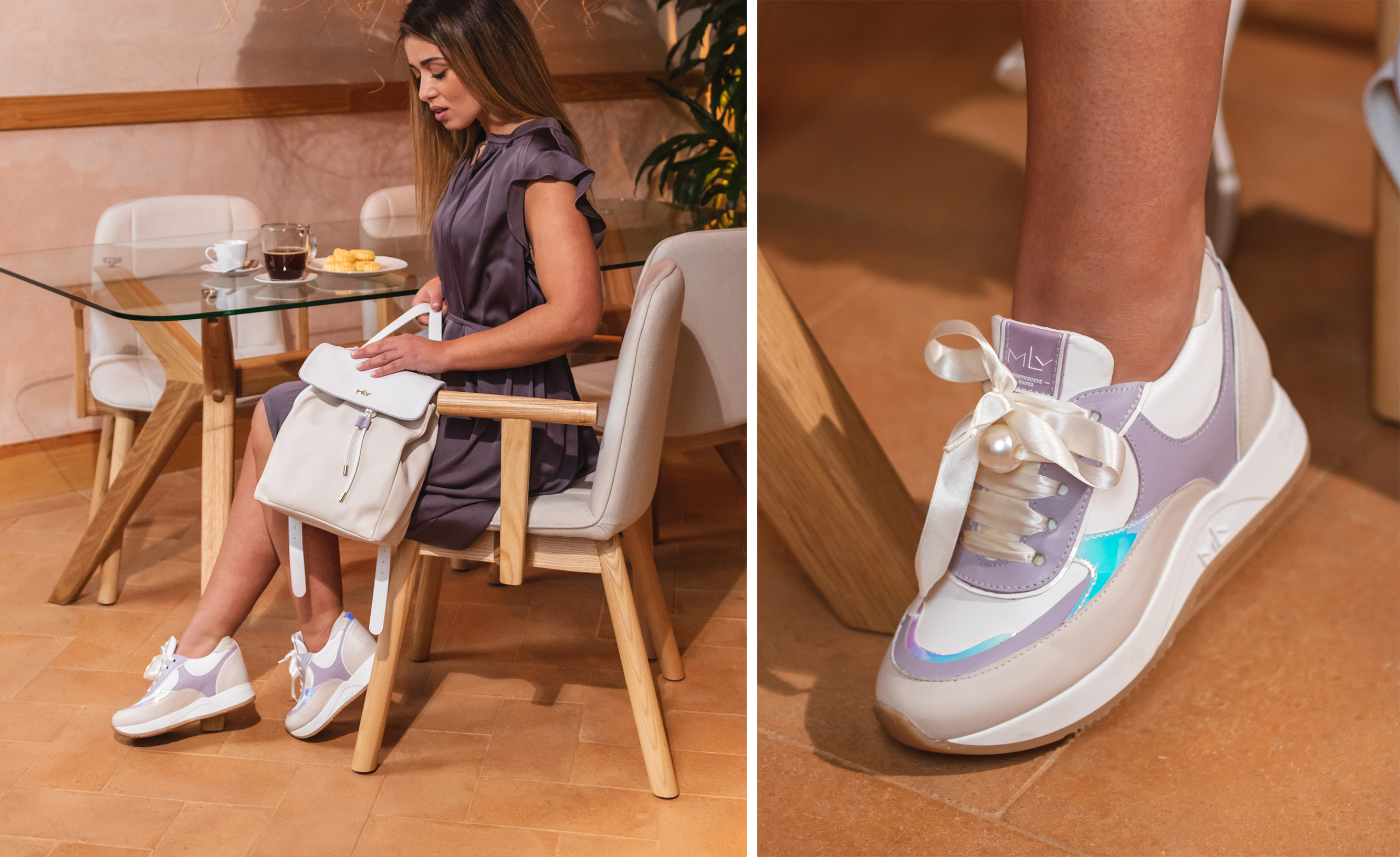 These type of sneakers are a must-have for all taller women, but many of us prefer flat sneakers and we're not necessarily tall.
Sometimes we prefer the simplicity of a flat sneaker which will match perfectly with a formal look as well as a more casual look.
If you have to walk for many hours, be sure to check that the sole is not too thin and that the insole is cushioned. Only this way you can ensure that you'll feel comfortable even after a few hours on your feet.
Tip: complete your look with a blazer in the same colour as the sneaker 😉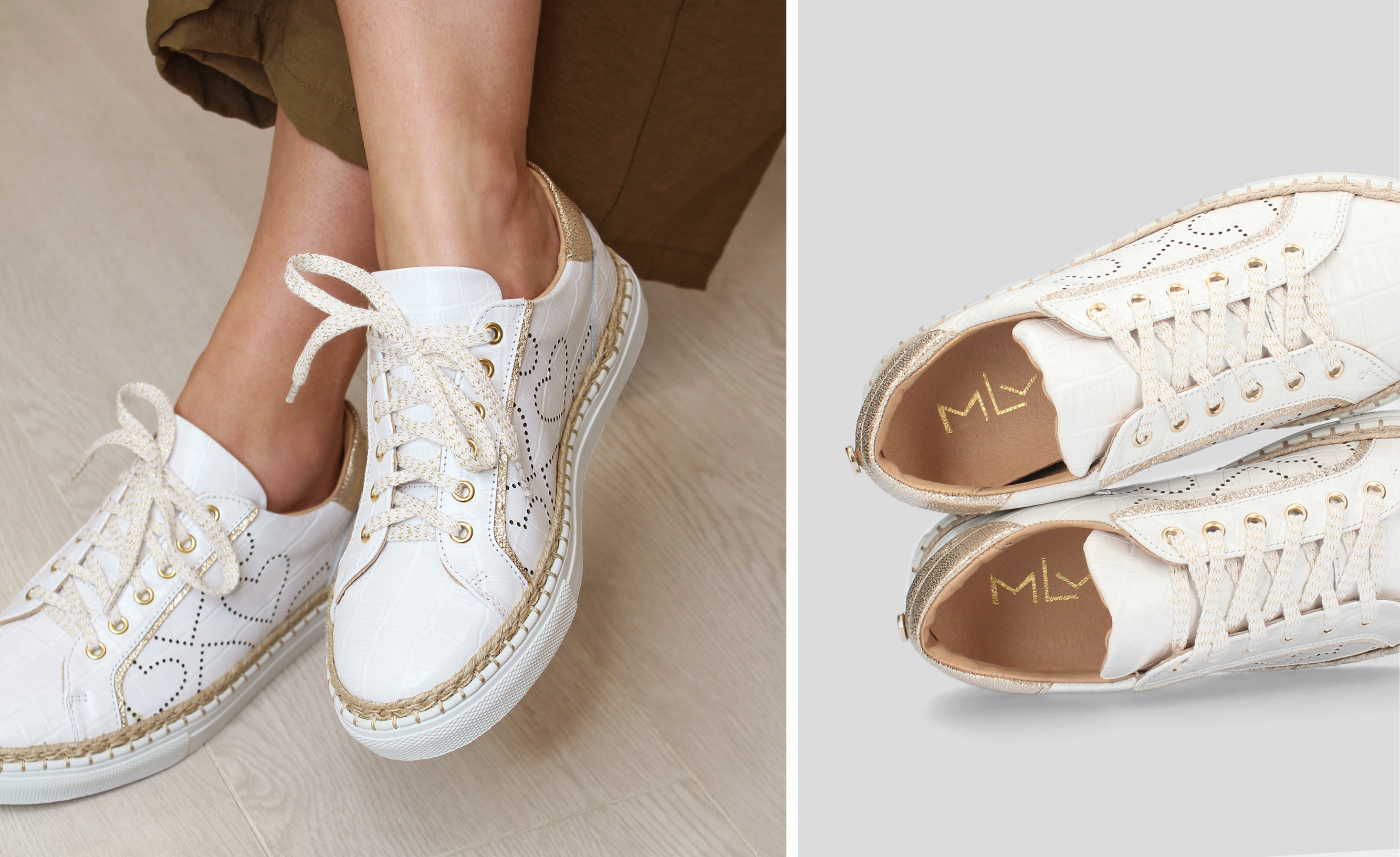 Colour & Irreverence
Since life is not all work and formalisms ( thankfully ), MLV Shoes developed two new lines that we believe are ideal for casual styles and for women with a more extroverted personality.
The Angela and Ariana sneakers, similar to the Aurea line, have some elevation.
Their sole is sturdy and colourful, and as such, these sneakers excel by mixing textures and materials in bright, fun and diverse colours.
The Angela feminine sneakers allow you to create modern looks, among shades of navy blue and red and black and yellow, which gives a festive and cheerful look.
The Ariana women's sneakers will brighten up your day with their vibrant and super trendy colours that add a carefree and youthful style to your look.
As in all our lines of sneakers, the insole is lined in leather, which is synonymous of high quality, which is something that we never compromise and is our brand image, as you can confirm by our customers' opinions.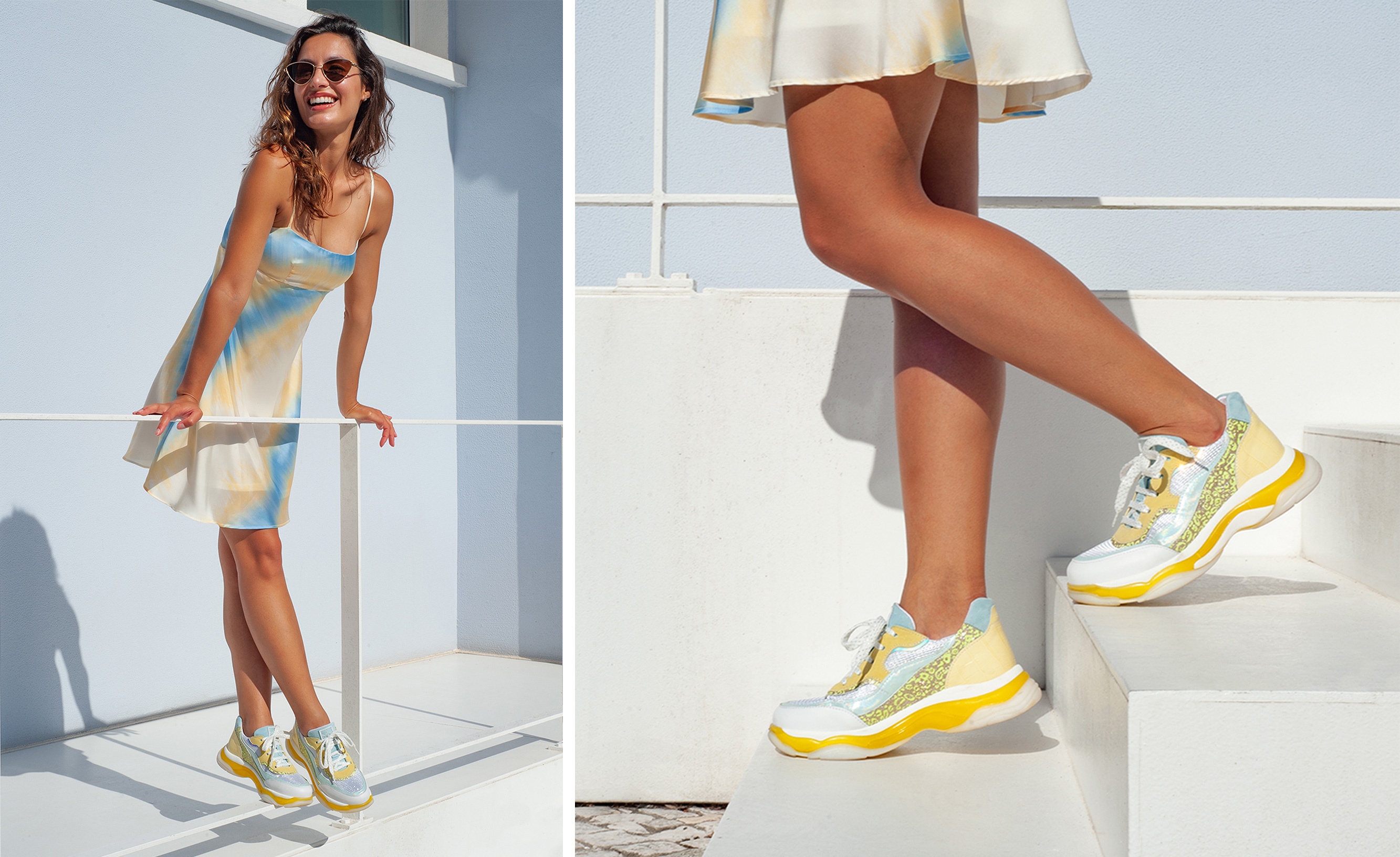 In a nutshell, we at MLV Shoes seek to offer the best experience to those looking for sneakers online or in the traditional trade shops, discover the point of sale nearest you here.
You may also have the opportunity to find, if available, models from the current collection at a discount by clicking on Sneakers Promotion.
We work every day to ensure that this is where you will find the best online shop for sneakers and every type of women's footwear. #WalkWithGrace